Upper Respiratory Products
The Upper Respiratory portfolio offers a full range of products that can relieve your most bothersome symptoms. Cough & Cold are part of the most common ailments, with adults having two to five common colds each year and school children having from seven to ten colds per year.* Consumers are looking for fast and efficient products to relieve their symptoms.
*[Eccles R. 2005. Understanding the symptoms of the common cold and influenza. Lancet Infect Dis 2005;5:718–725]
Coldrex Plus cough is the newest product of Coldrex range, available in hot drinks.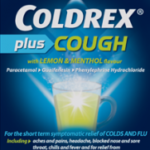 Upper Respiratory Products