Upper Respiratory Products
Raphe Pharmaceutique Laboratories makes high-quality upper respiratory products including cough, cold, allergy and sinus products that are accessible to everyday consumers for a wide variety of conditions. We are committed to improving the health of you and your family.  Our affordable products are in your favorite stores across America, Canada, and Mexico today.
"My allergies won't slow me this down this spring."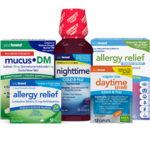 Upper Respiratory Products
A Business Model Built on Creating High-Quality Products